January 12, 2023
|
Office of Undergraduate Admission & Admission Operations
You are almost there! The college application process can be daunting and confusing, and we are cheering you on as you get closer to the finish line. As we near the final first-year admission application deadline, the Undergraduate Offices of Admission and Admission Operations to provide some helpful information for applicants who have incomplete application and are missing letters of recommendation and/or test scores. If a student's application is missing certain documents, our office sends out regular communications about what is missing, and below, applicants and families can explore how to get those important documents turned in.
Letters of Recommendation:
, there are a few frequently asked questions that we have included below to help applicants to get their materials sent in.
Recommenders may send letters via the Common Application or email them to admissions@gonzaga.edu. Please note, we require that the recommender email the letter, not the student.
Applicants must indicate on the Common Application their recommender's name and email address, which will then allow them to submit their letter of recommendation directly to the Common Application.
Recommenders can be any teacher who has taught the applicant in high school, though we recommend the teacher be from a core-subject area and one with whom the applicant has a strong relationship.

Homeschooled Students: Recommenders cannot be related to you, even if they are your instructor. Letters of Recommendation can come from an employer, Community College teacher, Pastor, etc.
We advise applicants to have a conversation with their desired recommenders about their request, to ensure that the recommender is aware of this ask and has the capacity to write the letter. Once this is done, applicants can request through the Common App.
Test scores:
There are a few ways that applicants can submit test scores to us such as sending a screenshot of their score, sending a downloaded PDF of their SAT or ACT Score reports, or sending scores directly from the College Board (SAT) or ACT websites. Please note, that Gonzaga is a test-optional institution, so test scores are not required for admission. If a student is currently missing a test score in order to complete their application and they would prefer to be considered without a score, please email admissions@gonzaga.edu, and we can switch the student to applying without a score. If applicants have questions about our test-optional policy, please reach out to your direct admission counselor using our Find your Counselor tool.
Applicant's Name

Date of Exam

All Section Scores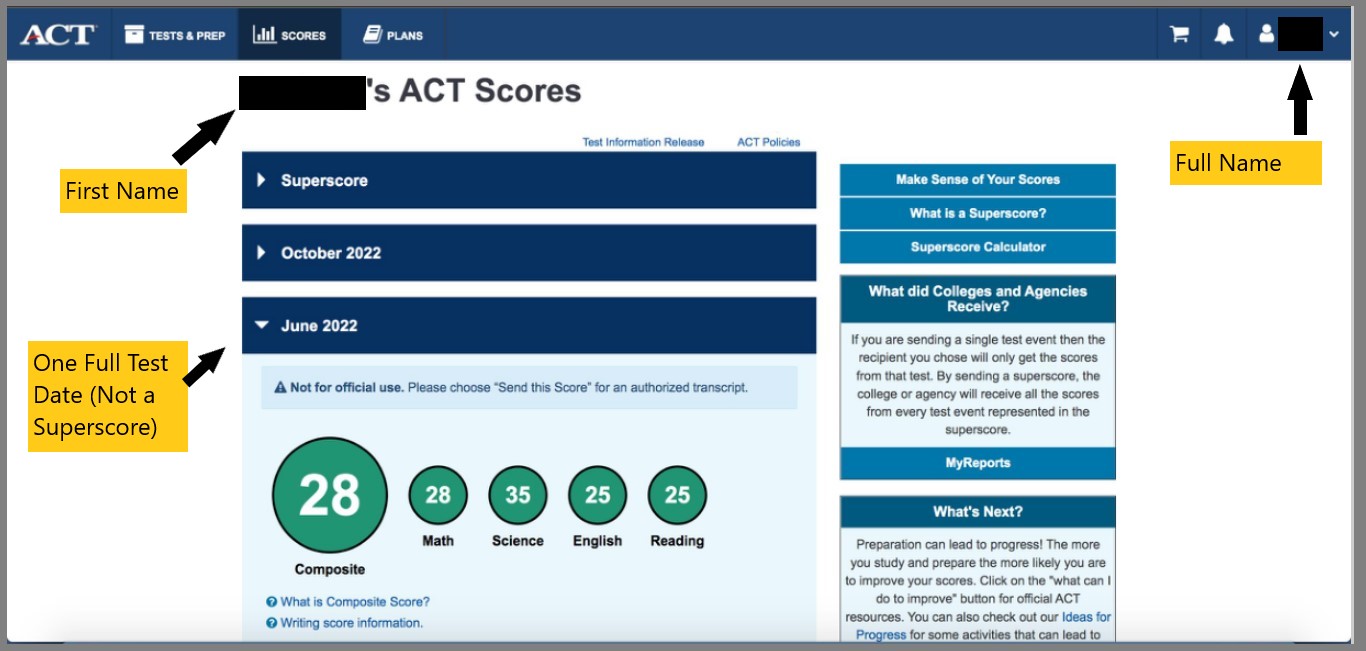 Applicants can also email Admissions@gonzaga.edu with an ACT or SAT Score Report. To find the Score report, applicants must:
Navigate to your dashboard and click the arrow on the right of any score report.

If you are downloading or printing from your desktop, click the Download Your Score Report button on the top right. If you are using a mobile device, click the download icon on the top right.

Email Admissions@gonzaga.edu with that screenshot and the applicant's name.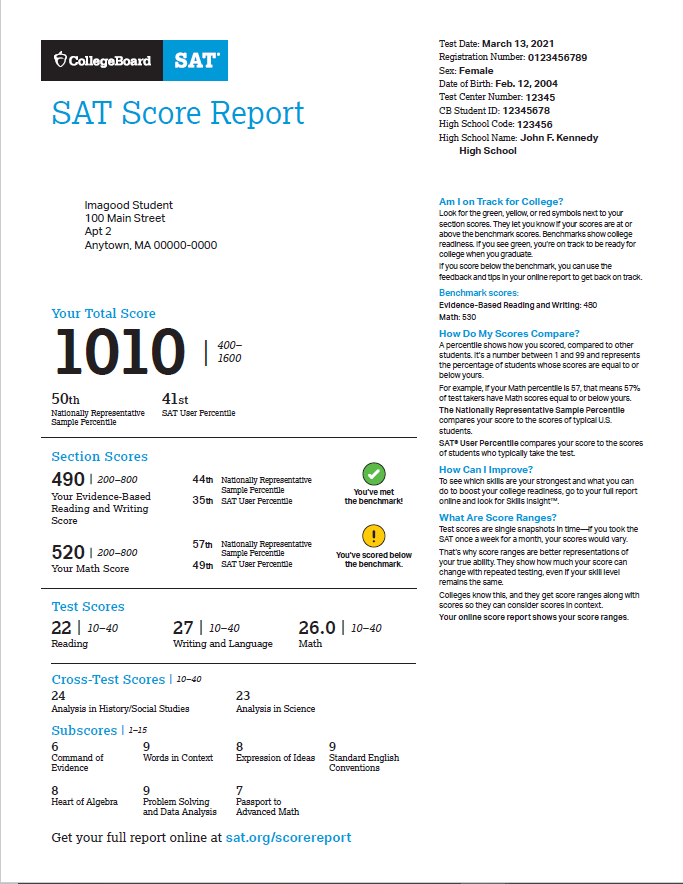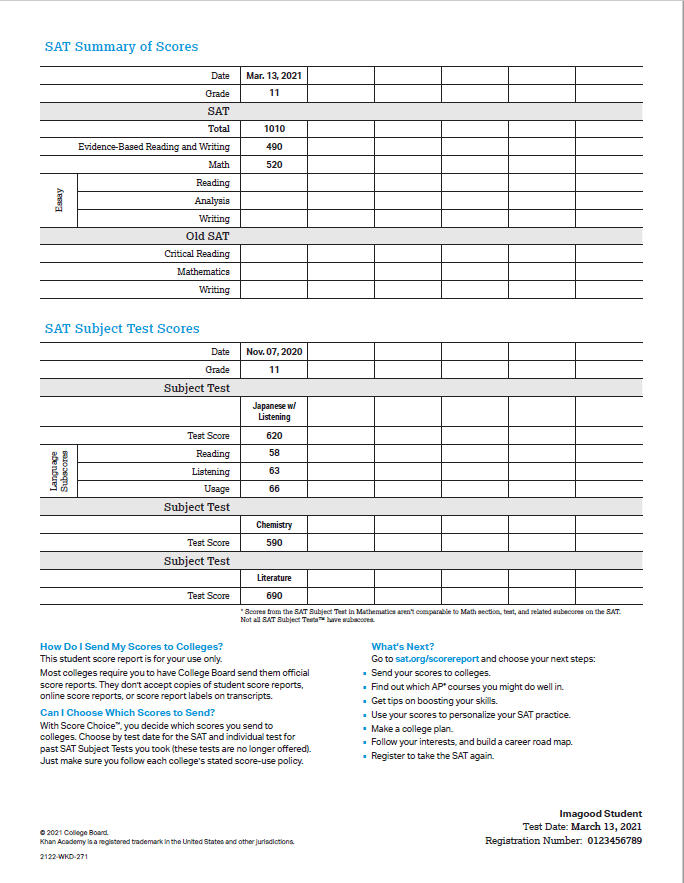 Sending Scores directly through the College Board (SAT) or ACT Websites
Sign in to your College Board account, then go to the Send SAT Scores page. On the Send SAT Scores page, you might get a prompt about fee waivers. If the message does not apply to you, you can ignore it.

Select colleges to send scores to.
Search for colleges by name or code. Gonzaga's SAT Code: 4330.

Click one or more colleges to add them to the score recipients list, then click Continue.
If you've taken the SAT more than once, you can send only your best score. However, the college you're sending scores to might have a policy that they want to see all of your scores. As you select scores to send, you can view the policy requirements of the schools you selected and send what they require.
Create or sign in to your MyACT account and request to send reports from your scores dashboard, and pay by credit card. Gonzaga's ACT Code: 4458.
$18.00 per test date per report

If you are sending scores from before 9/1/2020, scores are subject to an additional $30.00 archive fee which applies per test date, per order.
Please do not hesitate to reach out to our office at any time if you have any questions

about Gonzaga, the application process, or any of the logistics mentioned above. You may reach our office via email at 

admissions@gonzaga.edu

or via

phone at (509) 313-6572.